Upright Posture Corrector
Regular price $39.99 USD $24.99 USD 38% OFF
"I'm so glad to have come across this product! I didn't even know it existed! I wish I'd found out about this sooner! I wear this about 8 hours a day, religiously. It is very comfortable, doesn't restrict any movement, and best of all, helps correct my posture. I don't even feel tired wearing it. I have already used this for a week and I must say, I do see good results in my posture when I don't have it on. I can't wait to see results after having used this for a longer period of time. I'm also hoping that maybe it might help to treat my minor scoliosis"
- Wynona C. …Deal Kings verified buyer
Do you look less attractive and often suffer fatigue because you slouch every time? Consider them solved with this upright posture corrector!
"Straighten Up…Don't slouch!" If you stay like that long enough, it will get stuck that way! That's timeless admonition we've probably all heard at one time or another from our mother.
Those words are worth heeding. Our mom was always right, you may not realize poor posture, such as slouching or slumping your shoulders, not only looks bad, but it can also have detrimental effects on your overall health. 
What is posture anyway and why is it so important? Posture refers to the body's alignment and positioning with respect to the force of gravity. Whether we are standing, sitting, or lying down gravity exerts a force on our joints, ligaments, and muscles. 
But what is good posture really? Good posture is also known as a neutral spine. When we have good posture, the muscles surrounding the spine are balanced and supporting the body equally.
Good posture involves distributing the force of gravity through our body so no structure is overstrained.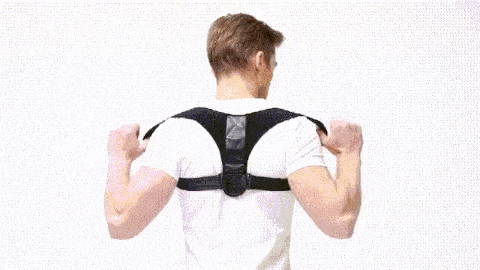 Wear this posture corrector daily and reap these benefits:
Improves Back Pain – With this contraption on your body, you will notice gradual pain reduction by stretching your chest, and strengthening your core and upper back muscles.
Achieve Better Form During Exercise - By focusing our attention on proper posture, we improve our workout results and prevent injury.
Aids in Vital Organs Functions – Poor posture compresses your internal organs. If you're compressing vital organs, your circulation is poor, and those organs aren't going to work as well. Healthy blood flow requires proper alignment and avoiding positions that weaken circulation.
Headache Away - Poor posture can lead to tension headaches, due to increased muscle tension in the back of the neck. Often if we correct our posture, we can reduce muscle tension and improve our headaches.
Reduces Damaged Joints Risks - Improper sitting and standing, such as resting on one leg or side of your body, leads to a hip strain. Your joints wear down naturally over time. If your posture is proper, not many problems will arise. 
We all tend to have bad posture at times. The last thing you want is to have back pain when you're older. Just imagine having to get up off the sofa with a walking stick and having great difficulty due to acute back pain as a result of bad posture throughout your life. 
This is where this product comes to the rescue. Wear this Upright Posture Corrector every day and hold perfect posture ensuring you'll stay healthy for years to come!
people are currently looking at this product