Ultimate Easy-Apply Magnetic Eyelashes Kit
Regular price $49.95 USD $24.99 USD 50% OFF
"This product is amazing!! They are super easy to put on and so comfortable to wear! I can never wear fake eyelashes, I think I might be allergic to the adhesive that's normally used, I just tested this today and I'm surprised I don't even feel like I have something on my eyes, this is a game-changer for me!"
- Catriona G. DEAL KINGS verified buyer
Get party-ready in no time!!! This Ultimate Easy Apply Magnetic Eyelashes Kit is a time-saver for creating gorgeous day or night looks. Just apply the eyeliner, snap on the lashes, and you're done! They stay securely latched onto the eyeliner
No adhesives needed thus avoid irritating your delicate eyes. 
False lashes can leave you in a sticky situation... literally! If you find yourself ripping out your own lashes or tugging at leftover goo two days later, then you're in for a decision of your life to make a switch to this Ultimate Easy Apply Magnetic Eyelashes Kit!!!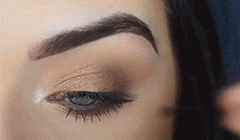 Like other fake lashes, magnetic lashes accent the natural beauty of your eye shape. People who dislike wearing makeup or have allergies to cosmetics may benefit from magnetic eyelashes. They can give you a "finished" look and they are easy to apply – no mascara or curler required.
How to Apply:
Apply the liquid eyeliner and let it dry

Use the tweezers to hold the lash close to your eyelid

Gently put the lashes on the liner

Repeat the previous step if you desire a more volumized result
If you love the look but have had trouble with traditional false eyelashes, magnetic lashes may work for you. Just about everyone wants eyelashes that are thicker, darker, and more voluminous. From growth serums to plain old mascara, there are tons of ways to enhance the look of your lashes.
Magnetic eyelashes are the newest trend when it comes to giving your lashes some extra oomph. These reusable lashes give you all of the benefits of false eyelashes without a messy adhesive. Just as the name suggests, magnetic eyelashes use magnets to adhere to the fake eyelash to your lash line. At the base of each strip of false eyelashes are teeny tiny magnets.
What exactly are the benefits of Ultimate Easy-Apply Magnetic Eyelashes Kit?
No Glue Necessary - Anyone who has ever applied false eyelashes the old-fashioned way knows that glue is messy. Even a little bit can go way too far, resulting in sticky eyelids and gloopy dried glue. Magnetic eyelashes completely eliminate the need for a sticky adhesive.
Easy To Apply And Saves Your Precious Time - With magnetic lashes, you don't need to be a makeup guru to achieve the perfect lash application. You won't have to deal with glue either. Using a lash applicator, you simply apply the magnetic eyeliner, attach the lash on the eyeliner, and let it work its magic. Compare that to eyelash extensions wherein applications take minutes to two hours (if professionally done) and full drying time takes between 30 seconds and 48 hours. A magnetic liner and lash system lets you enjoy beautiful lashes instantly – no waiting time and no mess involved.
100% Weatherproof - Scrap weatherproof. Magnetic eyeliner and lashes are actually life-proof. Even with prolonged exposure to water, heat, and other harsh elements, these lashes stay on for up to 10 hours without falling off or smudging. It's the perfect companion for long days at work or at play.
Completely Reusable - Fake lashes are usually a one-and-done product. While I have heard of people carefully removing and re-using fake eyelashes, that sounds like a chore. When I get home from a night out, I peel them off and toss them. Magnetic eyelashes are more of an investment piece. They can be worn again and again, as many times as you like. 
It's Perfectly Safe And Cruelty-Free - One of the biggest concerns about glue-on eyelash extensions is the hazardous substances used in glue. Most lash glues on the market contain toxic chemicals that pose serious health issues. One of the benefits of magnetic eyelashes vs glue is that, because you don't attach anything to your natural lashes, you won't have to worry about your lashes turning brittle, drying, or falling out.
You're in a hurry for a meeting or an event and at wit's end trying to figure out how to put on false lashes. Worse, you've got glue everywhere: on your hands, your face, your clothes. And now you're late because of all the mess and because putting on false eyelashes is just so difficult! If you've ever used glue-on eyelash extensions before, chances are you've been in this situation. Luckily, there is a new way to get pretty lashes for only a fraction of the time and cost and without the mess.
 
Try the Ultimate Easy Apply Magnetic Eyelashes Kit and watch your life change!
people are currently looking at this product