Salon-Expert Automatic Curling Iron
Regular price $70.00 USD $49.99 USD 29% OFF
"This makes it easy to do loose or tight curls for any occasion quickly and there is practically no learning curve because it's so simple. I used mine for a wedding and what would have taken hours with another curler only took 10 minutes and I got compliments all night on my curls. Even just casually wanting to change up my hair for the day is not a problem because it's so quick"
- Gayle M. …Deal Kings verified buyer
Let's admit, a curly hairstyle brings full charm and confidence every day… get the salon-quality finish curls you've always dreamed of at home! With this Salon-Expert Automatic Curling Iron, curling has never been so easy!
What could be more romantic than some gorgeous looking curls in shiny long hair? Curls soften the appearance of anyone making them look more angelic yet fabulous. 
Through the ages, women have always gone to great lengths to get beautiful hair. From ancient styling tools to 21st-century electronic perm machines, it's been one fascinating "must-have" gadget after another.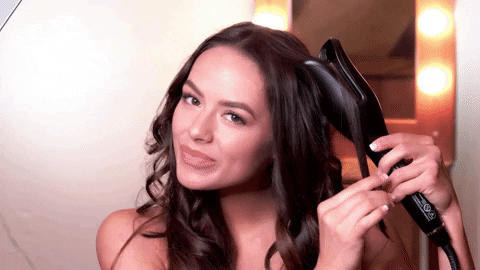 Hair has, and will always, make a statement about how a woman sees herself. It is her most outstanding feature. Not just any kind of hair but a head full of beautiful hair, don't you agree? Well, this is because good-looking hair easily captures people's attention, regardless of the hairstyle one chooses to put. The beauty of natural hair is that it can be easily manipulated. Depending on one's tastes and preferences one can choose to keep straight or curly hair.
We all know how expensive it is to go to the hair salon and get professional curls done. There are so many important events to go to but going to the salon every week is very pricey. With this device, you will be able to get the same salon-quality curls from the comfort of your own home. You'll be saving thousands of dollars in the long run and getting the same sexy curls! 
Create flawless curls and waves at the push of a button with the Salon-Expert Automatic Curling Iron. Hair is drawn into the curl chamber where it is heated and timed to create perfect curls and waves every time! The digital temperature display offers easily adjustable temperature settings and a selection of preset temperature settings for each hair texture, creating a customizable styling experience while avoiding unnecessary heat damage. Ceramic heat technology produces far-infrared heat while the conditioning benefits of negative ions result in shinier, healthier, and more beautiful hair.
Why do some women prefer a curly hairstyle? Here are IRREFUTABLE reasons worth considering:
You don't have to try too hard to achieve a perfect hairdo - You can just fluff out the curls with your fingers and you are good to go.
Unlike straight hair which needs to be brushed regularly - one does not need to do this when the hair has curls because the waves set naturally with less effort.
Come rain, wind, or snow - your curls will stay curled. Curly hair can be relentless when it comes to being shaped into new styles, which is certainly a benefit in less than perfect climate.
Curly hair is more versatile - You can get creative and style the hair in so many ways that give you a fancy look. You can also get playful with your hair by rocking a headband or a head wrap.
​
Curls make the hair look more voluminous - Some girls like the appearance of thick hair. Despite that those who don't have this type prefer to curl their straight hair to achieve the ultimate look.
I know exactly what you're situation is right now. You're a social butterfly and love going out. You go to the hair salon before the big night, you sit in the chair for a couple of hours, get some good looking curls done, and go to pay. As you're standing at the checkout section you're instructed to pay almost $1,000!
With this hair curler, you won't have to even pay a quarter of that. Save yourself the headache of having to fork out that kind of cash on a regular basis and try this curler. You'll be thanking yourself later! 
people are currently looking at this product